Beyond the Exhibition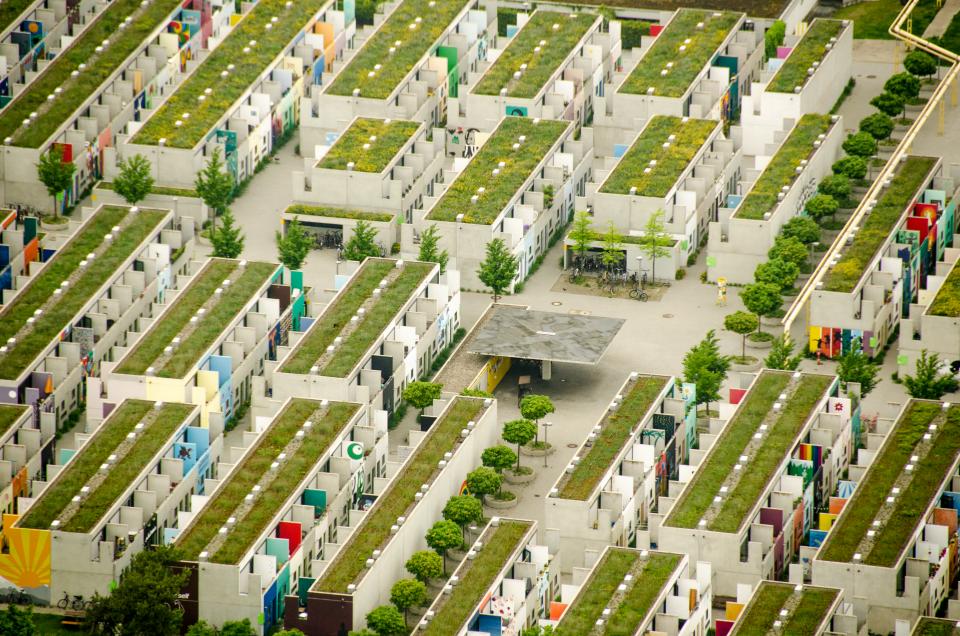 The Olympic Village in Munich.
The Olympic Village in Munich.
Photograph by Nacho Rascón. It can be found here.
This work is licensed under a Creative Commons Attribution-NonCommercial-NoDerivs 2.0 Generic License.
Opinions | A green future for Munich?
We asked civic leaders, exhibition participants, and fellows of the Rachel Carson Center for Environment and Society to share personal impressions about Munich and its future. Here is a selection.
For the future of Munich's environment I wish for: a carless downtown, greener neighborhood squares, space for unplanned green, and people who behave in an environmentally conscious way. This requires courageous city authorities, dauntless city planners, and socially committed citizens.
—Regine Keller, Professor of Landscape Architecture, Technical University of Munich (TUM)
My wishes for the environmental future: courageous and future-oriented decisions by the city council for maintaining air quality, reducing the number of cars, and developing strategies for climate protection and adaptation.
—Martin Glöckner, Managing Director, Green City e.V.
As a result of our agricultural practices cities are increasingly becoming places of greater biodiversity than rural areas. The idea of a "Green City" is no longer limited to isolated parks, but aims to create a network of connected natural spaces that promote ecological diversity. My vision for Munich is for the city to become a world leader, not just for citizens and residents, but also for nature.
—Michael John Gorman, Founding Director, BIOTOPIA—Naturkundemuseum Bayern
The fact that a fantastic natural environment like the Isar is able to thrive in the middle of Munich, encourages me to promote linking landscape and city development even more strongly in the future!
—Elisabeth Merk, Director of Municipal Development, City of Munich
By adopting the 2030 Agenda goals, Munich made a clear choice in favor of sustainability. The motto "think globally, act locally" has guided the decisions of the Bavarian state capital consistently and in an exemplary fashion for years. We are committed to the responsibility called for by the 2030 Agenda and we are undertaking to implement the sustainable development goals at the municipal level as optimally as possible.
—Dieter Reiter, Mayor, City of Munich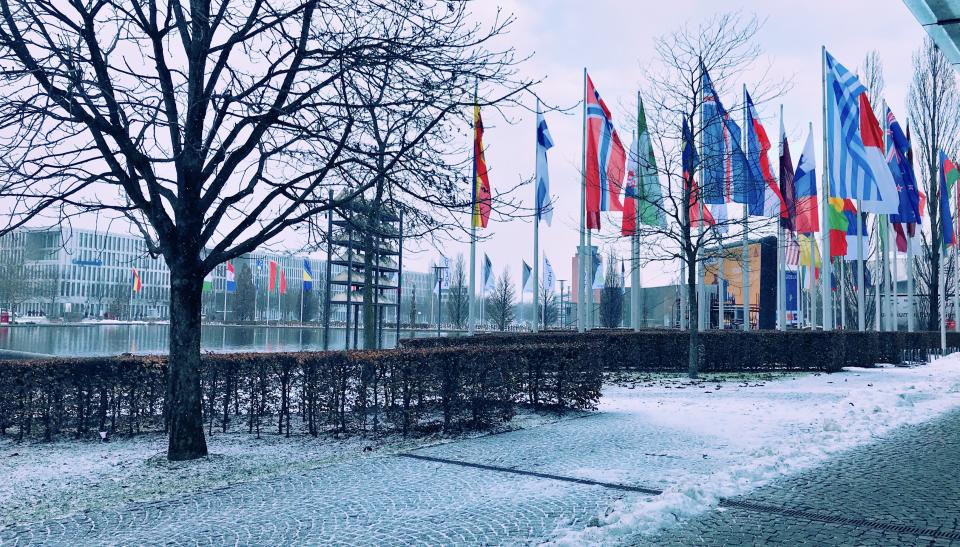 Flags of different countries in Munich.
Flags of different countries in Munich.
Photograph by Casey Hugelfink. It can be found here.
This work is licensed under a Creative Commons Attribution-ShareAlike 2.0 Generic License.
Munich—international perspectives
Carson Fellows from all over the world who spent time at the Rachel Carson Center in Munich were invited to comment on their subjective view of the city. A selection of statements can be found below.
Munich is the rare city that invites its inhabitants to make ecology a practice, not just an aspiration. Here it is possible to choose bicycle over car, to be conscious of every material one acquires, uses, and discards, and to visit the city's vital river daily. Here I can hop on my bike, follow endless trails, and within an hour or so find myself in the presence of sparkling lakes or shaded trailheads. Munich is a city where one knows that the mountains are nearby—not just from the map, but through the city's living linkages to its broader urban landscape. In Munich, I feel the cultural vibrance that says, "city", but that vibrance is animated by life that is so much more than human.
—Anne Rademacher, USA
Munich's cityscape stands out on account of the striking balance between greenery and architecture. The layout ensures that nature is given the space and sustenance to thrive to its fullest, thus offering an admirable model of sustainable urban planning.
—Saba Pirzadeh, Pakistan
I used to cycle in Beijing in the early 1980s. I had the feeling that my bike and I, as well as millions of cyclists, were revolutionary participants in the building of a classless utopia. Today Beijing has become an environmental disaster. The "Made in China"  Fahrrad I have in Munich feels more at home here than there. I could not imagine an ecopolis without bikes of all types, conditions, and ages since lowtech slow mobility and the quality of urban life go so well together. Let's don our helmets and prepare twenty-first-century Munich for a return to its car-free environmental history!
—Philippe Forêt, Kazakhstan
I have lived close to the English Garden for an entire year. That's how lucky I am. What I will remember most when I go back to the tropics, a part of the world without seasons, is the close contact with a changing landscape: the infinite shades of brown and orange of the fall; the naked branches of the winter, the fragrant blooms of the spring, the solid green of the summer.
—Paula Ungar, Colombia
Bisected by the Isar River, crisscrossed by bike paths and train tracks, clad in public parks, and peopled by activist citizens—nature and city seem to fit together here. Yet some pieces are harder to match: unsung struggles of immigrants and refugees, homelessness amidst prosperity, a powerful automotive industry, and the renewed specter of nationalism. Munich is a puzzle that is still being solved, and any solutions could offer hope to the many beyond the Millionendorf as well.
—Matthew Klingle, USA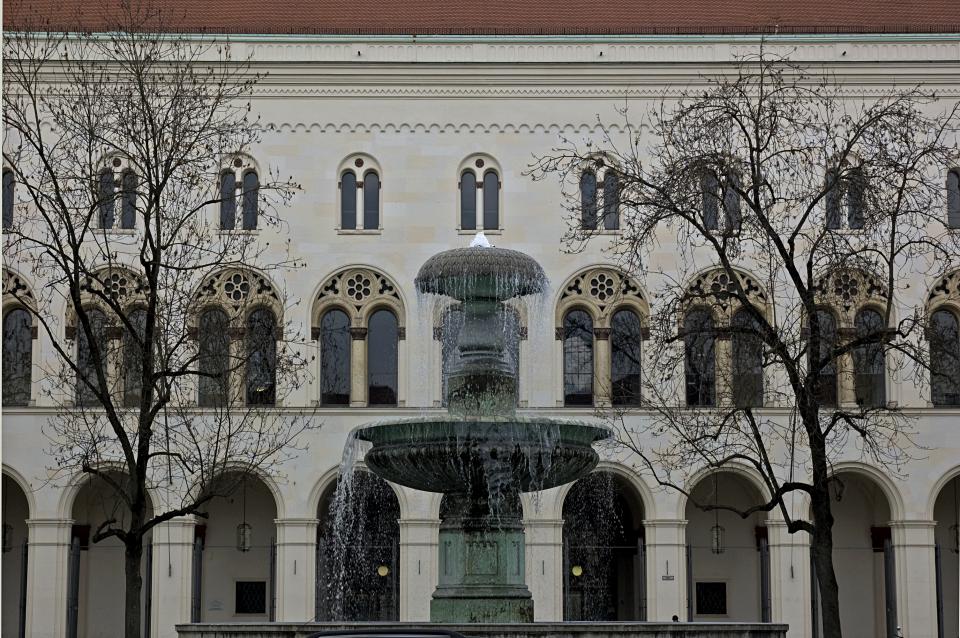 The LMU Munich main building at Geschwister-Scholl-Platz.
The LMU Munich main building at Geschwister-Scholl-Platz.
Photograph by digital cat. It can be found here.
This work is licensed under a Creative Commons Attribution 2.0 Generic License.
Beyond disciplinary boundaries
The 18 faculties that make up LMU Munich cover nearly all areas of intellectual inquiry in research and education. Particularly in the case of highly complex topics like the environment and climate, it is essential to look beyond the borders of one's own field. It is a great pleasure to see that the participants of this program have benefited from the insights of so many disciplines taught at LMU.
—Bernd Huber, President, Ludwig-Maximilians-Universität München
Environmental studies at LMU Munich
"Ecopolis München" is the outcome of a research seminar of the students of the Environmental Studies Certificate Program at LMU.
How can environmental topics in the city be investigated through collaborative research? Learning in interdisciplinary groups can be immensely fruitful, as this exhibition reveals. Together, students in the fields of math, social anthropology, biology, communication science, and health collected stories about Munich's urban nature, discovering along the way many remarkable things that they present to the public here. As such, the exhibition reflects the goals of the certificate program: understanding – and helping to shape – the relationship between humans and nature in both local and global contexts.
—Gesa Lüdecke, Director of Graduate Programs, Rachel Carson Center for Environment and Society
Collective curation
How do 19 people develop an exhibition about the environment as a group curatorial project? Working both as researchers and curators, the students set out in search of material. They collected personal stories, talked with experts, or simply watched and listened to the places and their inhabitants (not just the human ones). Going beyond the familiar format of academic texts, they experimented with multimedia representations, engaged in interdisciplinary discussion, and created visions together in topical groups.
—Laura Kuen, Curator, Rachel Carson Center for Environment and Society
Urban environments
Everyone who worked on this exhibition—and hopefully those who visit it as well—should come away with a new and completely altered view of urban environments: nature (that is, geology, climate, water, flora and fauna) has played a tremendous role in making cities what they are today. The "Ecopolis" exhibition shows how Munich residents in the past and present have altered and used their environment, and how it in turn has shaped them. And it raises awareness of the ways that visions of a sustainable urban future are being made a reality in Munich—and beyond.
—Christof Mauch, Director, Rachel Carson Center for Environment and Society