About the Exhibition
Ecopolis München: Environmental Histories of a City
About the Curators
Acknowledgements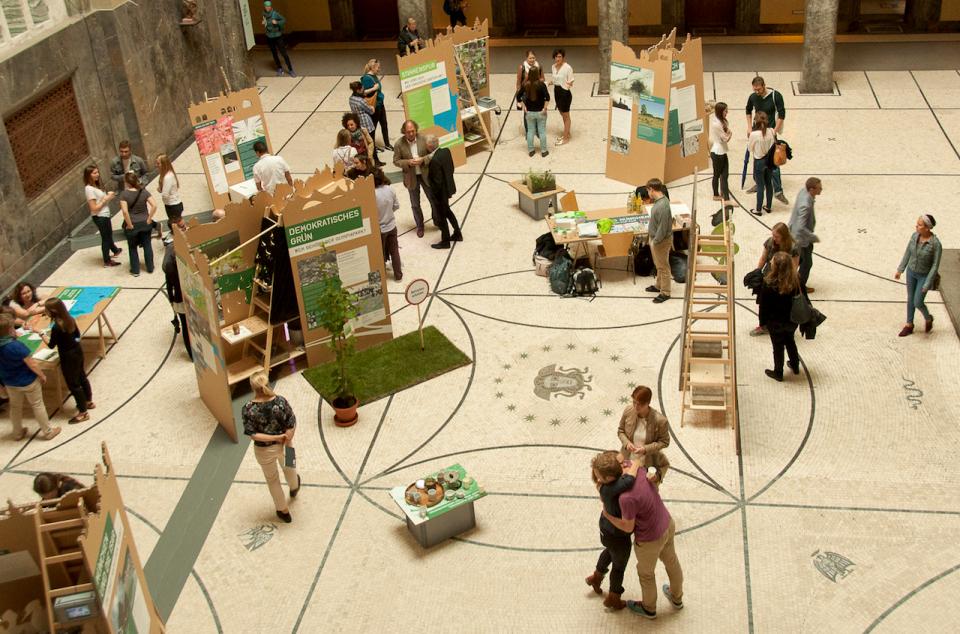 View of the June 2017 exhibition in the main building of Munich's Ludwig-Maximilians-Universität
View of the June 2017 exhibition in the main building of Munich's Ludwig-Maximilians-Universität
Florin Prună (2017)
This work is licensed under a Creative Commons Attribution 4.0 International License.
Water, rocks, animals, plants, fungi, and bacteria: together with human inhabitants, they have shaped the Bavarian capital. The student exhibition Ecopolis München: Umweltgeschichten einer Stadt (Environmental Histories of a City) traces past, present, and future relationships between people and their environments in Munich. It showcases the final projects of the students in the RCC's Environmental Studies Certificate Program.
Who knew that potatoes were once cultivated in the English Garden, or that mushrooms still grow in the urban underground? Does the Isar make Munich, or does Munich make the Isar? What does it mean that Munich is built on gravel? Why is it that one may not light candles around the Fröttmaning Church? And is there "democratic green" in the Olympiapark?
The stories in the exhibition ask to whom the urban world belongs, as well as how we want to design the urban environment in the future.
The exhibition includes six chapters: Sound Trail; Fröttmaninger Müllberg; Munich and the Isar; Democratic Green; Stone-Rich, and Munich from Below.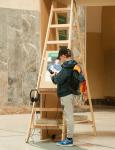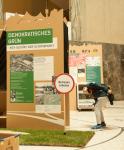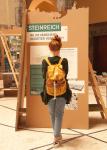 Installation photos by Florin Prună. These works are licensed under a Creative Commons Attribution 4.0 International License.
The exhibition ran from 25 July to 27 July 2017 in the main building of the LMU (Lichthof). It was featured on the forum Nachhaltig Wirtschaften, an influential, German-language platform for cross media communication on corporate social responisibility in politics, ecomony, business, and society. The full feature on the exhibition and its accompanying Ecopolis Night can be read here (written in German) .
Sound Trail
How Does the English Garden Sound?
Vera Kovács (European Ethnology)
Vera visited the English Garden for the first time on 6 July 2015. Beneath the shadow of a mighty birch tree, she made the decision to move to Munich. Ever since she has been drawing strength from Sckell's natural work of art. 
Katharina Theresa Müller (American Studies) 
Come rain or shine, Kathi's daily route leads her through the English Garden. After first having been amazed by the many traces of bites and gnawing observable on the trees, she was able to identify the perpetrator: it was a beaver who ate its way through her beloved park, leaving behind a trail.
Media ID: 4480
Media ID: 4480
Fröttmaninger Müllberg
Can One Simply Bury the Past?
Maximilian Gabriel (Environmental Planning and Engineering Ecology) and Katharina Ring (Business Administration/Statistics) 
Once an idyllic village, then a toxic mountain of garbage, and now a recreational area. Over time, different interests have shaped the Fröttmaninger Berg into a place full of bizarre contrasts—and, for us, a real treasure trove of unique stories.
Munich and the Isar
The City Makes the River?
Luna Benítez Requena (Evolution, Ecology, and Systematics) 
I really jumped right into the topic of the renaturalization of the Isar. It was important to me to explore how ecologically sensible the measures were and what the ecosystem as a whole looks like in Munich.
Elisa Hanusch (German Studies)
I chose the topic "Isar Habitat" because animals and their survival are close to my heart. I am also personally committed to the protection of animals and species and find it important to make this a subject of discussion as often as possible.
Johannes Summer (Physics) 
I can no longer imagine the city of Munich without the renaturalized Isar and was happy to learn more about the river that makes our city so livable and beautiful. This example showed me that large-scale projects with many different stakeholders can succeed and in this case it was even cheaper than, for example, the transfer fee of many a professional football player.
"Democratic Green"
Who Owns the Olympiapark?
Marlen Elders (Social and Cultural Anthropology)
I find it exciting to ask what it means to actively appropriate a city for oneself and to help shape it. Father Timofej's small chapel nicely shows that small utopias can be realized. We can often achieve much more than we think.
Laura Kuen (Social and Cultural Anthropology)
Many actors are involved in urban life—not just humans. I find the question of whose interests are, and are not, taken into account in political discussions fascinating.
Maya Schmitt (Sociology/American Studies) 
There are some areas of tension in the Olympiapark. I have been inspired to develop a greater understanding of them and to find out which position the park management represents. I want to provide a current overview of these areas of tension to exhibition visitors.
"Stone-Rich"
Where is Munich's Gravel Hiding?
Stefan Bitsch and Alicia Dorner (Geomaterials and Geochemisty)
We want to use the opportunity provided by this exhibition to share some of our knowledge. Through our studies we have been able to learn a lot about the great connections in nature. We not only want to thank our professors and lecturers, but also to share these interesting stories with visitors and fellow students.
Munich from Below
What Happens Underground? 
Lisa Bauer (Geography)
Munich's underground provides for the city. Nonetheless, the idea that it is mysterious remains because its functions are not clear to many Munich residents. On research tours, I developed an entirely new impression of the sewage system and underground beer cellars. The formerly canalized city stream will be brought back to the surface in the future. Such actions can spark a great awareness of the infrastructure below us.
Sonja Meinelt (Book Studies) 
The diversity of Munich's underground in particular fascinated me. Beneath Munich's surface, I discovered many intriguing stories, such as the canalized streams. The underground also holds great potential for the future.
Project Management
L. Sasha Gora MSc, curator, RCC
Raphaela Holzer MA, curator, RCC
Prof. Dr. Christof Mauch, director, RCC
Dr. Nina Möllers, curator, RCC and Deutsches Museum
Dr. Ursula Münster, academic coordinator, Environmental Studies RCC
Exhibition design: Katharina Kuhlmann & Alfred Küng
The essays and images on this website present an overview of the objects on display in the exhibition Ecopolis München: Umweltgeschichten einer Stadt, which was on view at the LMU (Lichthof) in July 2017. This digital companion to the exhibition was prepared by L. Sasha Gora for the Environment & Society Portal. The exhibition was in German and all texts (including direct quotes) have been translated into English by L. Sasha Gora and edited by the RCC editoral team.
Our gratitude goes to the following people and institutions:
Sound Trail: DD (Dieter) Beck (street musician), Michael Degle (Bayerische Schlösserverwaltung), Hermann Grub and Petra Lejeune (Ein Englischer Garten e.V.), Annette Kolb (Gesellschaft der Freunde des Teeweges in der Bundesrepublik Deutschland e.V.), Thomas Köster (head of administration of the English Garden), Heidrun Langer (city guide), Sabine Laske and Evi Lichtenwald (Rumfordschlössl Natur- und Kulturtreff für Kinder und Jugendliche), Sandra Reinalter (yoga instructor), and Gerhard Schwab (beaver manager, Southern Bavaria, BUND Naturschutz).
Fröttmaninger Müllberg: Archiv der Münchner Arbeiterbewegung e. V., Michael Brunner (Baureferat Gartenbau der Landeshauptstadt München), Anneliese und Martina Feser (shepherdesses), Dr. Franz Freyberger (Kirchenpfleger, Pfarrverband St. Albert), Prof. Dr. Regine Keller (TUM), Oliver Kern (Skiresort.de), Günther Langer (Abfallwirtschaftsbetrieb München), Sven Riepe (Süddeutsche Zeitung), Monika Stey (Abendzeitung München), and Andreas Wöhl (Naturschutzgebiet Panzerwiese und Hartelholz).
Munich and the Isar: Dr. Michael Altmayer (Bayerisches Staatsministerium für Umwelt und Verbraucherschutz), Ana María Bastidas, Bayerisches Landesamt für Umwelt, Bayerisches Wirtschaftsarchiv, BISS (Bürger in Sozialen Schwierigkeiten), Markus Bräu (Referat für Gesundheit und Umwelt), Dr. Sophia Engel (Landesbund für Vogelschutz), Green City e.V., Prof. Dr. Johannes Kollmann (Arbeitsgruppe Renaturierungsökologie der TUM), Ralf Sartori, Heinz Sedlmeier (LBV Kreisgruppe München), Dr. Stefan Schmidt (Bayerischer Kanu-Verband e.V.), Johannes Schnell (Landesfischereiverband), Stadtarchiv Bad Tölz, Stadtmuseum München, Martin Summer, Ingenieure Patscheider und Partner, Oriana Taddeo, Fabian Unger (LBV Geschäftsstelle Wolfratshausen), Archiv Verlag Werner, Franz Schiermeier Verlag München, Wasserwirtschaftsamt München, and Wasserwirtschaftsamt Weilheim.
Democratic Green: Christian Eckstein, Ignacio Farías, Baumschule Handel Tutzing, Martin Hangen and Inge Kurr, Dr. Gerhard Kabierske (Südwestdeutsches Archiv für Architektur und Ingenieurbau), Serge Kaiser (Ost-West Friedenskirche e.V.) and team, Camilla Kraus, Niklas Olschewsky (Baumschule Olschewsky), Nika Pitkänen, Felix Remter, Martin Saxer, Marion Schöne (Olympiapark München) and team, and Issai Spitzer (beekeeper).
Stone-Rich: Dr. Stefanie Gillhuber (Bayerischer Industrieverband Baustoffe, Steine und Erden e.V.) and colleagues, Hartmut Kuhl, Dr. Bernhard Lempe (TUM), and Stadtmuseum Hadamar.
Munich from Below: Norbert Hans (Bunkerfreunde München), Peter Köstner (Kanalbetrieb der Münchner Stadtentwässerung), Sonja Lechner and Dankwart von Scotti, Klaus Leidorf, Maximilian Loessl (agrilution GmbH), Wolfgang Pischek, Christian Vogler and Darko Stanic (Augustiner Keller München), Franz Ulrich (Ulrich GmbH und Champignonzucht), and Petra Vogler.
The Ecopolis Team: Baureferat der Landeshauptstadt München, Fritz Lietsch (Forum Nachhaltig Wirtschaften), Willi Ruff (Isarfischer e.V.), the Environment & Society Portal Team for their patience and assistance in preparing this virtual exhibition, the RCC editors, the RCC staff … and everyone else who generously supported this project!
How to Cite
Gora, L. Sasha, ed. "Ecopolis München." Environment & Society Portal, Virtual Exhibitions 2017, no. 2. Rachel Carson Center for Environment and Society. doi.org/10.5282/rcc/7959.
ISSN 2198-7696 Environment & Society Portal, Virtual Exhibitions

2017 Edited by L. Sasha Gora
This refers only to the text and does not include any image rights.
Please click on an image to view its individual rights status.