Making Carbon and Climate Change Visible
Third chapter of Ricardo Rozzi et al.'s virtual exhibition, From Hand Lenses to Telescopes: Exploring the Microcosm and Macrocosm in Chile's Biocultural Laboratories.
From Hand Lenses to Telescopes: Exploring the Microcosm and Macrocosm in Chile's Biocultural Laboratories
Chile is a land drawn with the rhythm of nature itself. It is a natural laboratory that invites us to look up into the macrocosm and down into the microcosm. At both extremes of this long and narrow country, science activities have a major global impact. Today, over 50 percent of the world's astronomical observations use the telescopes of the European Southern Observatory (ESO) and other institutions installed in the Atacama Desert in northern Chile. Complementarily, at its southern end Chile established the Cape Horn International Center for Global Change Studies and Biocultural Conservation (CHIC) to investigate the microcosms, from the largest organism, planet Earth, to the smallest ones. CHIC explores diverse forms of knowledge and values to understand and protect the biosphere in the context of global socio-environmental change. This virtual exhibition enhances the integration of the sciences, arts, and humanities through a novel partnership with the Rachel Carson Center for Environment and Society, inviting visitors to be enchanted across the multiple scales of the cosmos.
About the Exhibition
About the author
Goffinet, Bernard
University of Connecticut, USA
Show more
Bernard Goffinet is a professor in ecology and evolutionary biology at the University of Connecticut. His research interests focus on the diversity and evolution of mosses and lichens based on field work in the Americas, Asia, and Africa. He also engages in enhancing awareness of these lesser-known organisms through walks, books, and exhibits. He completed his BS and MS at the University of Liège, with a thesis focused on epiphytes in old growth forests, and earned his PhD at the University of Alberta for his study on the evolution of mosses. He has edited and written several books and is currently the president of the International Association of Bryologists. You can learn more about his work here.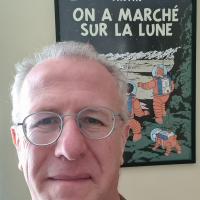 Smette, Alain
European Southern Observatory
Show more
Alain Smette has been an operations staff astronomer at the European Southern Observatory since 2004. He received his PhD from the University of Liège, Belgium, in 1994. After a postdoc at the Kapteyn Astronomical Institute, Groningen, he became a research associate at NASA's Goddard Space Flight Center, then returned to Liège in 2001. His research interests include the study of absorption lines in the spectra of quasars and gamma-ray burst optical afterglows, gravitational lensing, and active galactic nuclei. As a member of the Science Operations department at Paranal, he was successively the instrument scientist for the VISIR then CRIRES instruments, and instrument operations team coordinator. He is currently a system scientist in the system engineering group at the Paranal Observatory.
Browse the exhibition