Myllyntaus, Timo ed. | from Multimedia Library Collection: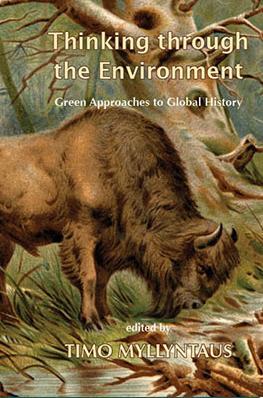 Thinking Through the Environment. Cover.
Myllyntaus, Timo ed. Thinking Through the Environment: Green Approaches to Global History. Cambridge: The White Horse Press, 2011.
Thinking through the Environment: Green Approaches to Global History is a collection offering global perspectives on the intersections of mind and environment across a variety of discourses—from history and politics to the visual arts and architecture. Its geographical coverage extends to locations in Africa, Asia, Australia, Europe, and North America. A primary aim of the volume is, through the presentation of research cases, to gather an appropriate methodological arsenal for the study of environmental history. Among its concerns are interdisciplinarity, eco-biography, the relationship of political and environmental history, and culturally varied interpretations and appreciations of space—from Bangladesh to the Australian outback. The approaches of the indigenous peoples of Lapland, Mount Kilimanjaro, and elsewhere to their environments are scrutinized in several chapters. Balancing survival—both in terms of resource exploitation and of response to natural catastrophes—and environmental protection is shown to be an issue for more and less developed societies, as illustrated by chapters on Sami reindeer herding, Sudanese cattle husbandry, and flooding and water resource-use in several parts of Europe. As the title suggests, the volume exposes the lenses—tinted by culture and history—through which humans consider environments; and also foregrounds the importance of rigorous "thinking through" of the lessons of environmental history and the challenges of the environmental future.
The editor, Timo Myllyntaus, is professor of Finnish history at the University of Turku, Finland. His articles on environmental history deal with forest, water, and climate history, as well as Finnish historiography. He co-edited Encountering the Past in Nature: Essays in Environmental History (2001) and the anthology Pathbreakers: Small European Countries Responding to Globalisation and Deglobalisation (2008).
All rights reserved. © 2011 The White Horse Press. Distributed by Turpin Distribution