Foster, John Bellamy | from Multimedia Library Collection: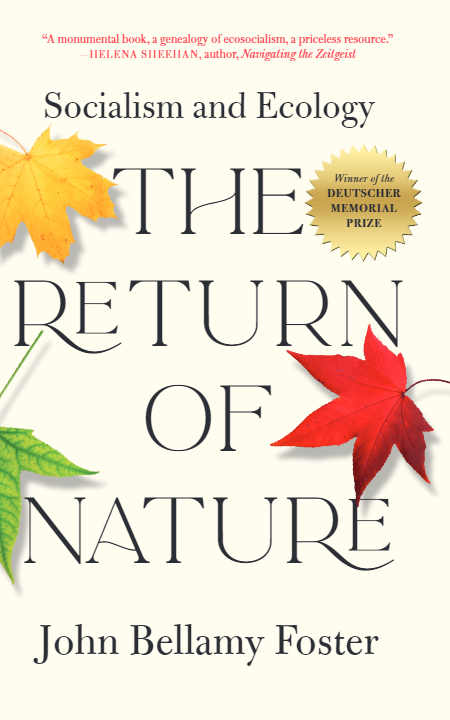 The Return of Nature: Socialism and Ecology. Cover.
Foster, John Bellamy. The Return of Nature: Socialism and Ecology. New York: Monthly Review Press, 2020. 
Twenty years ago, John Bellamy Foster's Marx's Ecology: Materialism and Nature introduced a new understanding of Karl Marx's revolutionary ecological materialism. More than simply a study of Marx, it commenced an intellectual and social history, encompassing thinkers from Epicurus to Darwin, who developed materialist and ecological ideas. Now, with The Return of Nature: Socialism and Ecology, Foster continues this narrative. In so doing, he uncovers a long history of the efforts to unite questions of social justice and environmental sustainability, and helps us comprehend and counter today's unprecedented planetary emergencies.

The Return of Nature begins with the deaths of Darwin (1882) and Marx (1883) and moves on until the rise of the ecological age in the 1960s and 1970s. Foster explores how socialist analysts and materialist scientists of various stamps, first in Britain, then the United States, from William Morris and Frederick Engels, to Joseph Needham, Rachel Carson, and Stephen J. Gould, sought to develop a dialectical naturalism, rooted in a critique of capitalism. In the process, he delivers a far-reaching and fascinating reinterpretation of the radical and socialist origins of ecology. Ultimately, what this book asks for is nothing short of revolution: a long, ecological revolution, aimed at making peace with the planet while meeting collective human needs. (Source: Monthly Review)
John Bellamy Foster is professor of sociology at the University of Oregon and editor of Monthly Review. His previous books on ecology include: The Vulnerable Planet, Marx's Ecology, Hungry for Profit (edited with Fred Magdoff and Frederick Buttel), Ecology Against Capitalism, The Ecological Revolution, The Ecological Rift (with Brett Clark and Richard York), What Every Environmentalist Needs to Know About Capitalism (with Fred Magdoff), Marx and the Earth (with Paul Burkett), and The Robbery of Nature (with Brett Clark).
© 2020 Monthly Review Press and the author. Used by permission.