Boudia, Soraya, and Nathalie Jas | from Multimedia Library Collection: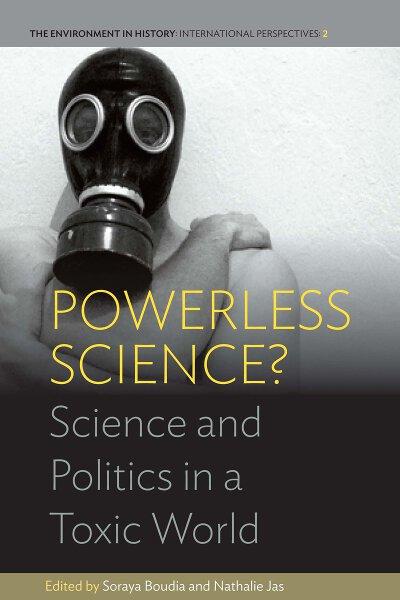 Powerless Science? Science and Politics in a Toxic World. Cover.
Boudia, Soraya, and Nathalie Jas, eds. Powerless Science? Science and Politics in a Toxic World. New York, Oxford: Berghahn Books, 2014.
In spite of decades of research on toxicants, along with the growing role of scientific expertise in public policy and the unprecedented rise in the number of national and international institutions dealing with environmental health issues, problems surrounding contaminants and their effects on health have never appeared so important, sometimes to the point of appearing insurmountable. This calls for a reconsideration of the roles of scientific knowledge and expertise in the definition and management of toxic issues, which this book seeks to do. It looks at complex historical, social, and political dynamics, made up of public controversies, environmental and health crises, economic interests, and political responses, and demonstrates how and to what extent scientific knowledge about toxicants has been caught between scientific, economic, and political imperatives. (Text from Berghahn Books)
The Rachel Carson Center, the ESEH, and Berghahn Books (New York and Oxford) partner on the publication of the peer-reviewed book series The Environment in History: International Perspectives.The series strives to bridge both national and disciplinary divides, with a particular emphasis on European, transnational, and comparative research.
Further readings:
Carson, Rachel. Silent Spring. 40th anniversary edition. With essays by Edward O. Wilson and Linda Lear. New York: Mariner Books, 2002.
Craig, Wendy, et al. "An Overview of General Features of Risk Assessments of Genetically Modified Crops." Euphytica 164, no. 3 (2008): 853–80.
Daniel, Pete. Toxic Drift: Pesticides and Health in the Post-World War II South. Baton Rouge: Louisiana State University Press, 2005.
Hales, Simon, et al. "Climate Change and Human Health: Present and Future Risks." The Lancet 367, no. 9513 (2006): 859–69.
Sheail, John. Pesticides and Nature Conservation: The British Experience 1950–1957. Oxford: Clarendon Press, 1985.