Alexiades, Miguel N., ed. | from Multimedia Library Collection: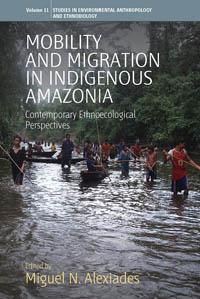 Mobility and Migration in Indigenous Amazonia. Cover.
Alexiades, Miguel N., ed. Mobility and Migration in Indigenous Amazonia: Contemporary Ethnoecological Perspectives. New York: Berghahn Books, 2009.
Contrary to ingrained academic and public assumptions, wherein indigenous lowland South American societies are viewed as the product of historical emplacement and spatial stasis, there is widespread evidence to suggest that migration and displacement have been the norm, and not the exception. This original and thought-provoking collection of case studies examines some of the ways in which migration, and the concomitant processes of ecological and social change, have shaped and continue to shape human-environment relations in Amazonia. Drawing on a wide range of historical time frames (from pre-conquest times to the present) and ethnographic contexts, different chapters examine the complex and important links between migration and the classification, management, and domestication of plants and landscapes, as well as the incorporation and transformation of environmental knowledge, practices, ideologies and identities. (Text from Berghahn Books)
Studies in Environmental Anthropology and Ethnobiology is an international series based at the University of Kent at Canterbury. It is a vehicle for publishing up-to-date monographs and edited works on particular issues, themes, places or peoples which focus on the interrelationship between society, culture and the environment.