Parrinello, Giacomo | from Multimedia Library Collection: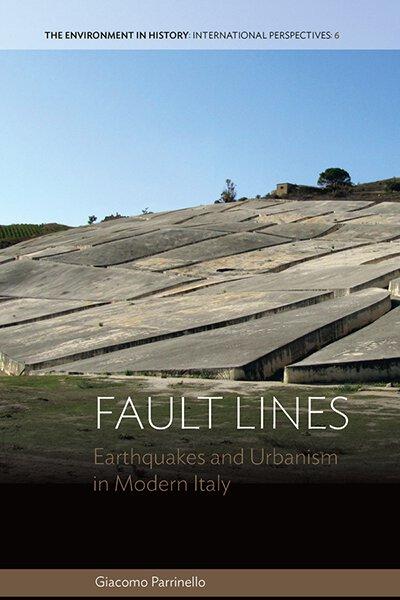 Fault Lines: Earthquakes and Urbanism in Modern Italy. Cover.
Parrinello, Giacomo. Fault Lines: Earthquakes and Urbanism in Modern Italy. New York, Oxford: Berghahn Books, 2014.
Earth's fractured geology is visible in its fault lines. It is along these lines that earthquakes occur, sometimes with disastrous effects. These disturbances can significantly influence urban development, as seen in the aftermath of two earthquakes in Messina, Italy, in 1908 and in the Belice Valley, Sicily, in 1968. Following the history of these places before and after their destruction, this book explores plans and developments that preceded the disasters and the urbanism that emerged from the ruins. These stories explore fault lines between "rural" and "urban," "backwardness" and "development," and "before" and "after," shedding light on the role of environmental forces in the history of human habitats. (Text from Berghahn Books)
The Rachel Carson Center, the ESEH, and Berghahn Books (New York and Oxford) partner on the publication of the peer-reviewed book series The Environment in History: International Perspectives. The series strives to bridge both national and disciplinary divides, with a particular emphasis on European, transnational, and comparative research.
Further readings:
Gauzin-Müller, Dominique. Sustainable Architecture and Urbanism: Concepts, Technologies, Examples. Basel: Birkhäuser, 2002.
Gregory, Clancey. Earthquake Nation: The Cultural Politics of Japanese Seismicity. Berkeley: University of California Press, 2006.
Rohr, Christian. "Man and Natural Disaster in the Late Middle Ages: The Earthquake in Carinthia and Northern Italy on 25 January 1348 and its Perception." Environment and History 9, no. 2 (2003): 127-149.
Kempe, Michael and Christian Rohr. "Natural Disasters and their Perception." Special issue, Environment and History 9, no. 2 (May 2003): 123–6.