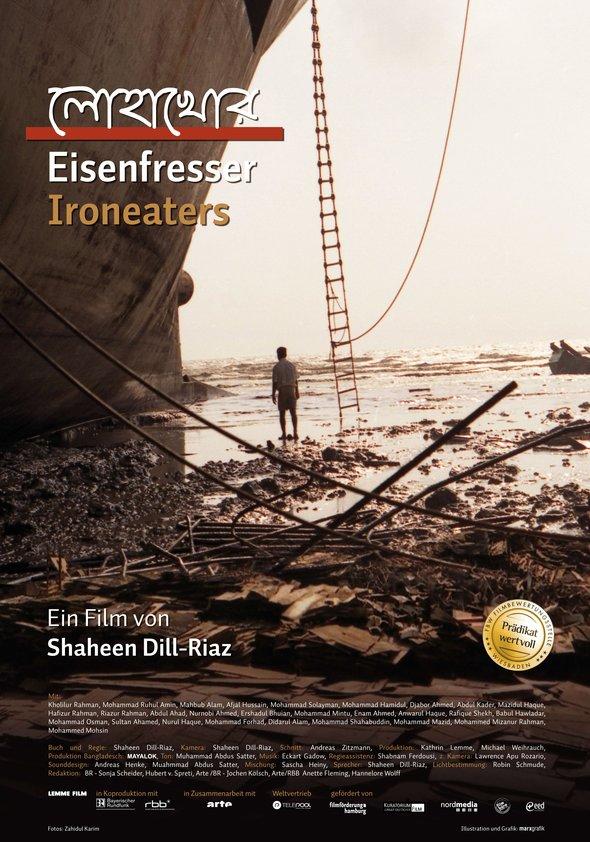 Eisenfresser: Iron Eaters.. Movie poster.
Dill-Riaz, Shaheen. Eisenfresser [Ironeaters]. Hamburg: Lemme Film, 2007. HDV / 16mm, 85 min. 75 min version available from Telepool.
Ever since his childhood, the shipbreaking yards of Chittagong in the south of Bangladesh had remained something of a mystery for director Shaheen Dill-Riaz, who was born and grew up in Dhaka. Following the Brazilian photographer Sebastião Salgado and the American journalist William Langewiesche's documentation of conditions there, Dill-Riaz began in 2001 the research that would lead to the film Eisenfresser or "Iron Eaters." The title of the film is a translation of the Bengali "lohakhor," used to refer to the shipyard workers who are employed for "starvation wages" to dismantle some of the larger waste products of the Western world. (Source: Adapted from the Official Film Website)
© 2007 Lemme Film. Image used with permission.