Dean, Warren | from Multimedia Library Collection: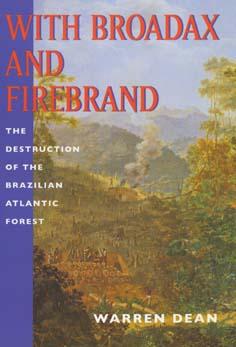 All rights reserved. Copyright © 1995 by University of California Press. Cover illustration: Félix-Emile Taunay, Floresta Reduzida a Carvão (1830), detail. Museo Nacional de Belas Artes, Rio de Janeiro. Cover design: Nola Burger.
The copyright holder reserves, or holds for their own use, all the rights provided by copyright law, such as distribution, performance, and creation of derivative works.
Dean, Warren. With Broadax and Firebrand: The Destruction of the Brazilian Atlantic Forest. Berkeley: University of California Press, 1995.
Warren Dean chronicles the chaotic path to what could be one of the greatest natural disasters of modern times: the disappearance of the Atlantic Forest. A quarter the size of the Amazon Forest, and the most densely populated region in Brazil, the Atlantic Forest is now the most endangered in the world. It contains a great diversity of life forms, some of them found nowhere else, as well as the country's largest cities, plantations, mines, and industries. Continual clearing is ravaging most of the forested remnants.
Dean opens his story with the hunter-gatherers of twelve thousand years ago and takes it up to the 1990s—through the invasion of Europeans in the sixteenth century; the ensuing devastation wrought by such developments as gold and diamond mining, slash-and-burn farming, coffee planting, and industrialization; and the desperate battles between conservationists and developers in the late twentieth century. (University of California Press website text).
Warren Dean (1932–1994) was professor of history at New York University.