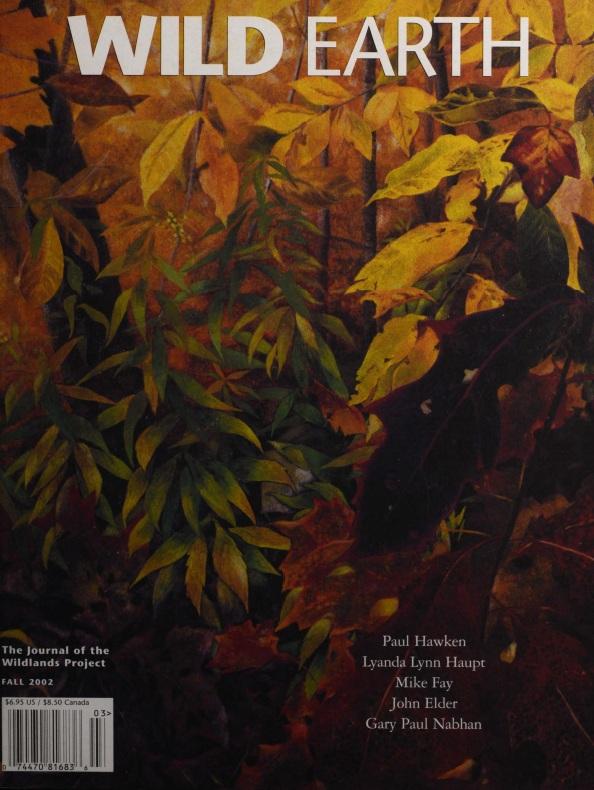 Intended as yet another instrument for attacking anthropocentric ideologies and voracious agricultural/industrial civilizations, the journal Wild Earth was published by the Earth First! movement between 1991–2004.
---
Butler, Tom, ed., Wild Earth 12, no. 3 (Fall 2002). Republished by the Environment & Society Portal, Multimedia Library. http://www.environmentandsociety.org/node/6103. 
This issue includes:
Commerce and Wilderness by Paul Hawken
Wilderness and Energy: The Battle Against Domination by David Johns
Activism, Taste, and Conscience: Literary Intellectuals and Their Role in Conservation by Jay Kardan
Darkness and Memory by John Elder
Mike Fay interviewed by Joshua Brown and Jennifer Esser
Smokey and Mirrors: The War Between Science and Pseudoscience in Grizzly Bear Conservation
by Stephen F. Stringham
Conserving Wildlands in Mexico by Rurik List and Patricia Manzano-Fischer
First Steps Along the Appalachian Trail: Benton MacKaye's Progressive Vision by Larry Anderson
The Impossible Race: Population Growth and the Fallacies of Agricultural Hope by Hugh Iltis
---
All rights reserved. The user may download, preserve and print this material only for private, research or nonprofit educational purposes. The user may not alter, transform, or build upon this material.
The Rachel Carson Center's Environment & Society Portal makes archival materials openly accessible for purposes of research and education. Views expressed in these materials do not necessarily reflect the views or positions of the Rachel Carson Center or its partners.
Further readings:
Nash, Roderick. Wilderness and the American Mind. New Haven: Yale University Press, 1967.
Wakild, Emily. Revolutionary Parks: Conservation, Social Justice, and Mexico's National Parks, 1910–1940. Tucson: University of Arizona Press, 2011.
Bryson, Bill. "A Walk in the Woods: Rediscovering America on the Appalachian Trail.". New York: Random House LLC, 2006.
Davoll, John. "Population Growth and Conservation Organizations, with Particular Reference to the International Union for Conservation of Nature and Natural Resources (IUCN)." Population and Environment 10, no. 2 (1988): 107-14.
Runge, Carlisle Ford. "Energy Exploration on Wilderness: 'Privatization' and Public Lands Management." Land Economics 60, no. 1 (1984): 56-68.