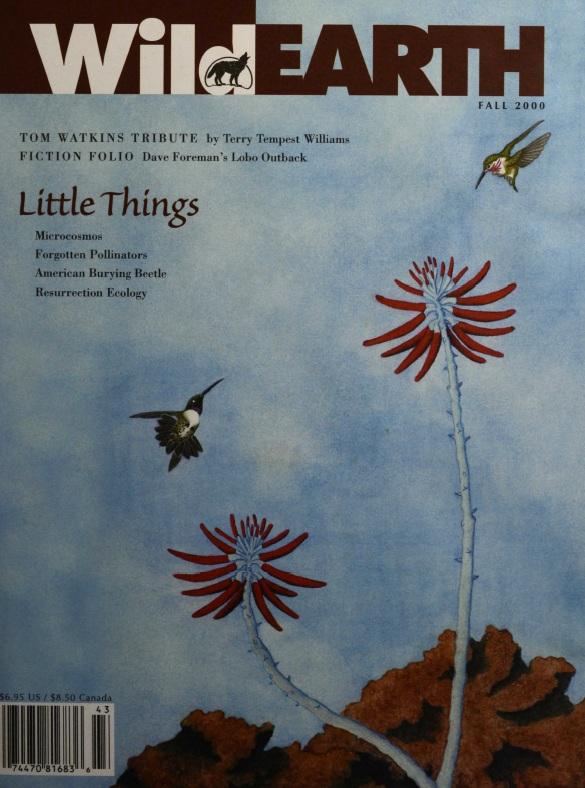 Intended as yet another instrument for attacking anthropocentric ideologies and voracious agricultural/industrial civilizations, the journal Wild Earth was published by the Earth First! movement between 1991–2004.
---
Butler, Tom, ed., Wild Earth 10, no. 3 (Fall 2000). Republished by the Environment & Society Portal, Multimedia Library. http://www.environmentandsociety.org/node/6096.
Issue Theme: Little Things
This issue includes:
The Microcosm by Lynn Margulis and Dorion Sagan
The Return of the American Burying Beetle by David Horn
Resurrection Ecology: Bring Back the Xerces Blue! by Robert Michael Pyle
Natural Areas, Hunting, and Nature Conservation in the Neotropics by Kent Redford
Rockefeller's Choice: Philanthropy and the Struggle for Jackson Hole by Robert Righter
Conserving Birds and Riparian Zones: A New Resource for Californians
by Gregg Elliott and Geoffrey Geupel
Myths of Convenience and the Role of the Golden-Cheeked Warbler in Central Texas Forest Restoration by Dean Keddy-Heeter
---
All rights reserved. The user may download, preserve and print this material only for private, research or nonprofit educational purposes. The user may not alter, transform, or build upon this material.
The Rachel Carson Center's Environment & Society Portal makes archival materials openly accessible for purposes of research and education. Views expressed in these materials do not necessarily reflect the views or positions of the Rachel Carson Center or its partners.
Further readings:
Butler, Tom, ed. Wild Earth: Wild Ideas for a World Out of Balance. Minneapolis: Milkweed Editions, 2002.
Foreman, Dave, and Howie Wolke. The Big Outside: A Descriptive Inventory of the Big Wilderness Areas of the United States. New York: Harmony Books, 1992.
Manfredo, Michael J. Who Cares about Wildlife? Social Science Concepts for Exploring Human-Wildlife Relationships and Conversation Issues. New York: Springer, 2008.