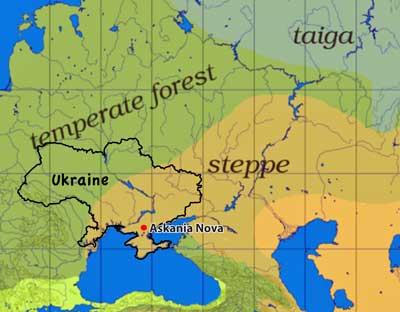 Map of the steppe region, Ukraine
Map of the steppe region, Ukraine
Map of the steppe region showing location of Askania Nova Biosphere Reserve, the destination of one of David Moon's field trips. Modified from Pontic-Caspian vegetation zones map, Wikipedia.
This work is licensed under a Creative Commons Attribution-ShareAlike 3.0 Unported License.
Oosthoek, Jan. "Podcast 43: A Transformed Landscape: The Steppes of Ukraine and Russia." Exploring Environmental History podcast, 27 July 2011. MP3, 33:38. http://www.eh-resources.org/podcast/podcast.html.
David Moon talks about his visit to the Ukrainian steppes. In addition to conventional historical research in archives and libraries in Odessa, he travelled through the steppes, visited nature reserves, and met scientists to help him understand how the landscape had been transformed over time. This episode provides fascinating insights into the environmental history of the steppes and the way that environmental historians go about studying the history of landscapes and environments.
A Transformed Landscape: The Steppes of Ukraine and Russia (23.1 MB)
"Echo of the Steppe" by Julian Kytasty (bandura). Link Media, Inc. Source: Internet Archive "Where You Are Now" by Zapac "Sooner or Later" by Geert Veneklaas
Exploring Environmental History podcasts are periodic programs featuring interviews with people working in the field, reports on conferences, and discussions about the use and methods of environmental history. They are posted on the Environmental History Resources website, which is maintained by Jan Oosthoek.