Misrach, Richard | from Multimedia Library Collection: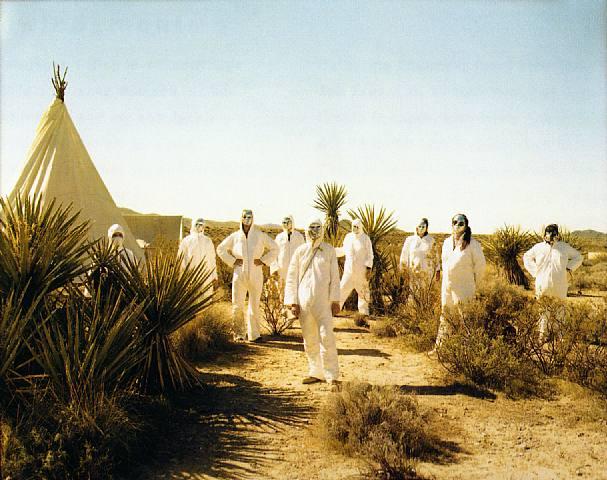 Richard Misrach, Princesses Against Plutonium, Nuclear Test Site, Nevada. Chromogenetic Print, 1988.
Princesses Against Plutonium, Nuclear Test Site, Nevada. (Photograph and chromogenic print by Richard Misrach. © 1988 Richard Misrach. Courtesy of Fraenkel Gallery.)
This image appears in: Hsu, Hsuan. "Representing Environmental Risk in the Landscapes of US Militarization." Environment & Society Portal, Virtual Exhibitions 2014, no. 1. Rachel Carson Center for Environment and Society. http://www.environmentandsociety.org/node/6058.
The Princesses Against Plutonium, a group of activists who trespassed the Nevada Test Site dressed in body suits and death masks and handed out fliers warning workers to evacuate the contaminated area, used costume and staging to dramatize the invisible and frequently indeterminate risks associated with radiation exposure. Although the nine women were arrested after the April 1988 action, they "inspired hundreds of 'copycat' invasions and arrests, which jammed the courts and ultimately resulted in the charges against the Princesses being dismissed" (Misrach, 15).

—Hsuan Hsu
Read more here.