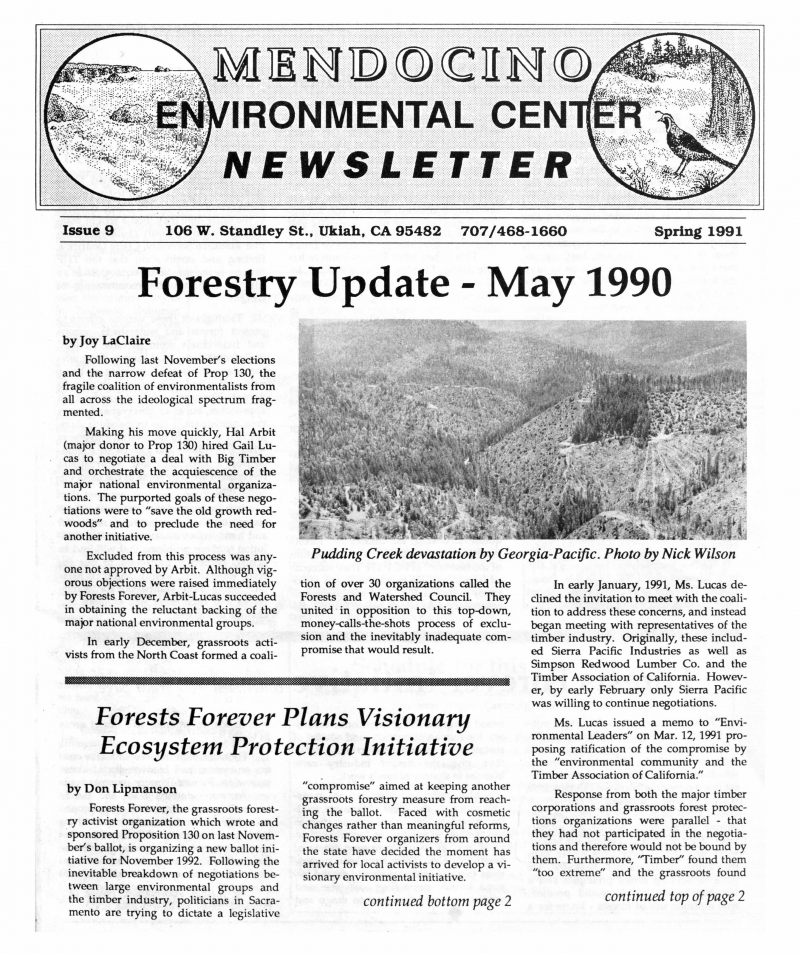 Mendocino Environmental Center Newsletter, Issue 9. Front Page.
Mendocino Environmental Center, Mendocino Environmental Center Newsletter, Issue 1991 (Spring 1991). Republished by the Environment and Society Portal. Multimedia Library. http://www.environmentandsociety.org/node/8185.
---
In this issue of Mendocino Environmental Center Newsletter, the editors discuss topics such as forestry, the environmental consequences of the Gulf War, and how unity can preserve ancient forests. 
The environment cannot be held hostage; war on the environment is unacceptable. Because mined oil fields are preventing firefighters from approaching some of the oil fires, military strategies must be put into place to ensure that the mines are deaned as quickly as possible from the fire areas.

— Nancy Pelosi
---
All rights reserved. The user may download, preserve and print this material only for private, research or nonprofit educational purposes. The user may not alter, transform, or build upon this material.
The Rachel Carson Center's Environment & Society Portal makes archival materials openly accessible for purposes of research and education. Views expressed in these materials do not necessarily reflect the views or positions of the Rachel Carson Center or its partners.
Further readings:
Foreman, Dave. Ecodefence: A Field Guide to Monkeywrenching. Tucson: A Ned Ludd Book, 1987.
Lee, Martha. Earth First!: Environmental Apocalypse. Syracuse: Syracuse University Press, 1995.