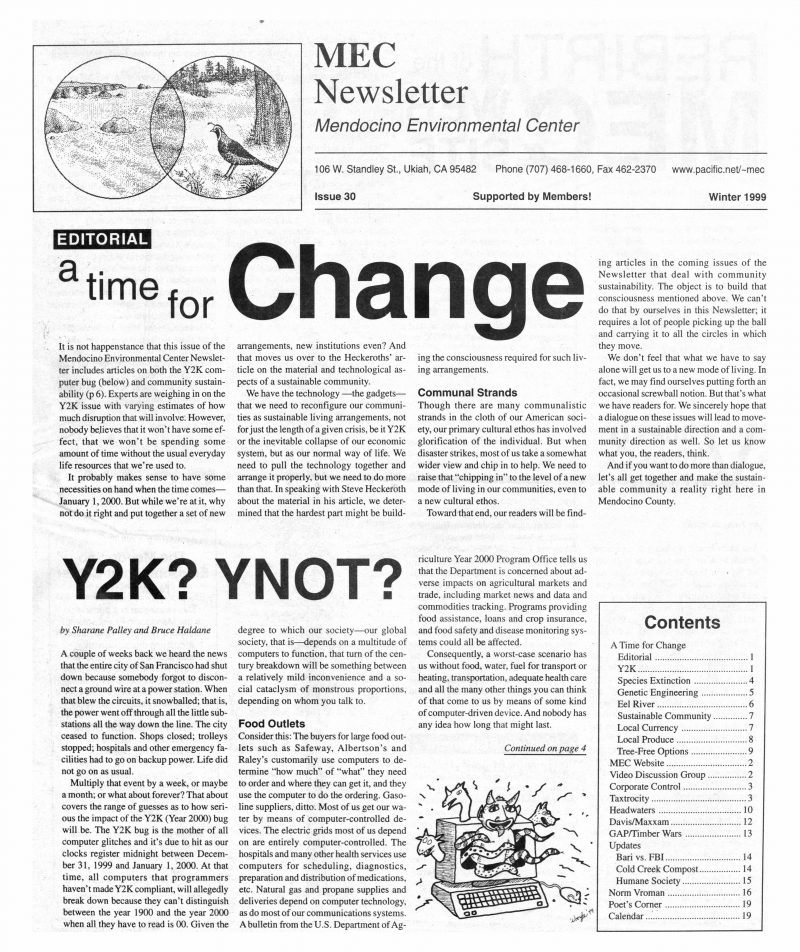 Mendocino Environmental Center Newsletter, Issue 30. Front Page.
Mendocino Environmental Center, Mendocino Environmental Center Newsletter, Issue 30 (Winter 1999). Republished by the Environment and Society Portal. Multimedia Library. http://www.environmentandsociety.org/node/8197.
---
This issue of Mendocino Environmental Center Newsletter features stories on Y2K, genetic engineering, and local currency and produce. 
Genetic engineering changes the DNA of living organisms — a scary notion, especially when it's in the hands of those who believe human beings have the right and the authority to apply any scientific trickery that comes within their capability.

— Jan Allegretti
---
All rights reserved. The user may download, preserve and print this material only for private, research or nonprofit educational purposes. The user may not alter, transform, or build upon this material.
The Rachel Carson Center's Environment & Society Portal makes archival materials openly accessible for purposes of research and education. Views expressed in these materials do not necessarily reflect the views or positions of the Rachel Carson Center or its partners.
Further readings:
Foreman, Dave. Ecodefence: A Field Guide to Monkeywrenching. Tucson: A Ned Ludd Book, 1987.
Lee, Martha. Earth First!: Environmental Apocalypse. Syracuse: Syracuse University Press, 1995.