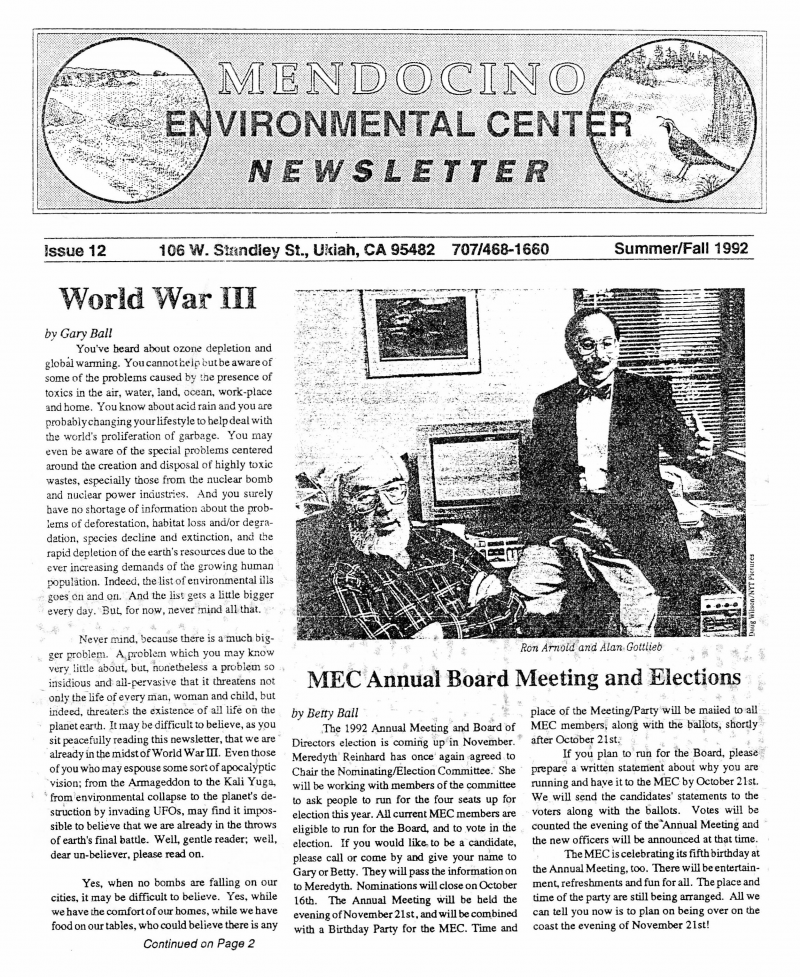 Mendocino Environmental Center Newsletter, Issue 12. Front Page.
Mendocino Environmental Center, Mendocino Environmental Center Newsletter, Issue 12 (Summer/Fall 1992). Environment and Society Portal. Multimedia Library. http://www.environmentandsociety.org/node/8186.
---
 In this issue of Mendocino Environmental Center Newsletter, Gary Ball discusses the possibility of World War III and introduces the Wise Use Movement, while Claude Steiner writes about Mendocino's new landfill. 
Table of Contents:
World War III: Preview of the Wise Use
Movement
Annual Board Meeting and Elections: Call for Candidates
AB 939 Recycling Plan: Waste Diversion
Cahto Wilderness Case Resumes: Help Save the Cahto
Meet The Wise Use Movement: Intro to the Wise Use Movement
OEDP Committee: The Economic Plan Process
Albion Protestors in Court: L-P Charges Trespass
Participate In Map Rap: Map Rap Manual Available
Wise Use Nuts & Bolts: Exploring the Wise Use
To Fill or Not to Fill: The Case for Zero Waste
What's Happening at the MEC?: Issue Updates
Hackers Wanted: CompuMentor Volunteers
Global California: Sustainable Development Conference
Remineralization for the Earth: New Product Available
Wlse Use Movement Lists:Organizations in the Wise Use Movement
It may be difficult to believe, as you sit peacefully reading this newsletter, that we are already in the midst of World War III.

— Gary Ball
---
All rights reserved. This issue is available at the library of the Rachel Carson Center at the LMU Munich. To request digital access for research purposes, contact us at portal@carsoncenter.lmu.de.
The Rachel Carson Center's Environment & Society Portal makes archival materials openly accessible for purposes of research and education. Views expressed in these materials do not necessarily reflect the views or positions of the Rachel Carson Center or its partners.