Unknown Author | from Multimedia Library Collection: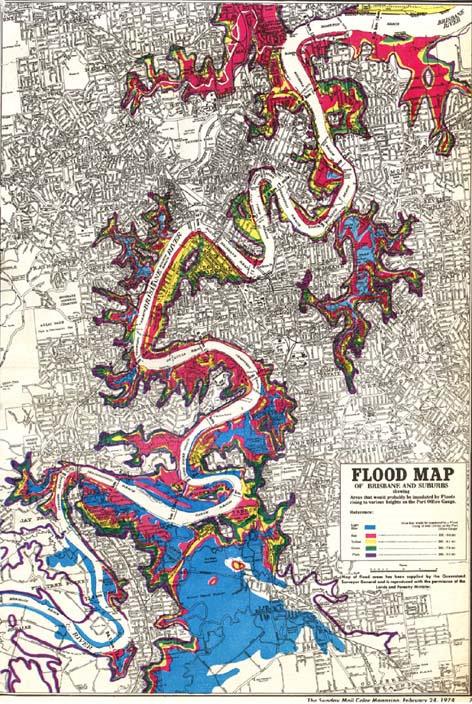 Image courtesy of Brisbane City Council.
This work is licensed under a Creative Commons Public Domain Mark 1.0 License.
Map of the 1974 flood in Brisbane, Australia. (Public Domain. Courtesy of Brisbane City Council.)
This image appears in: Cook, Margaret. "The Australia Day Floods, January 1974." Environment & Society Portal, Arcadia Spring 2017, no. 15. Rachel Carson Center for Environment and Society. http://www.environmentandsociety.org/node/7871.
In the La Niña year of 1974, an estimated 900 billion tons of rain fell throughout the state of Queensland in January alone. As Brisbane, Queensland's capital city, prepared for its annual Australia Day public holiday on 26 January, a large monsoonal trough, associated with Cyclone Wanda, hovered above the 13,500 km² Brisbane River catchment. A slow-moving depression dumped huge amounts of rain, flooding local creeks and the Bremer River tributary upstream in Ipswich.

—Margaret Cook
Read more here.