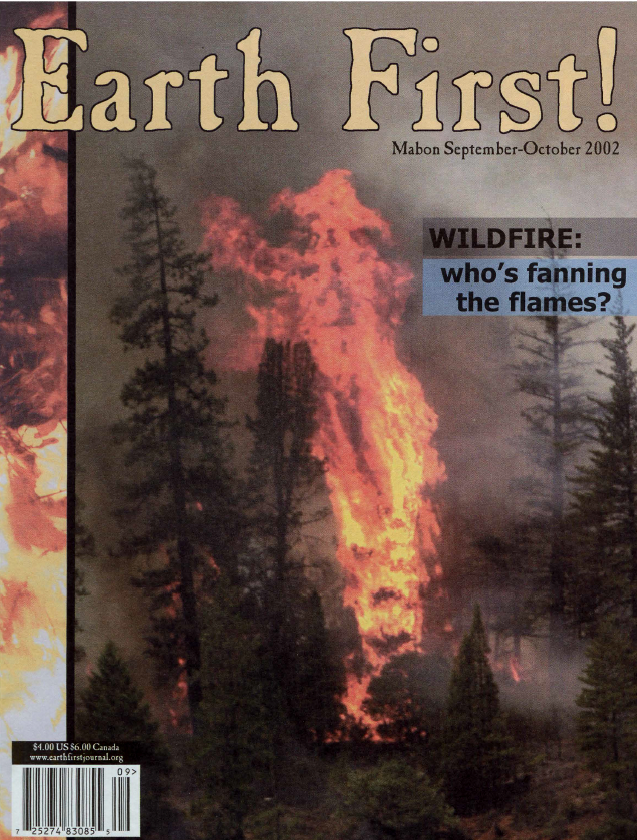 Earth First! Journal 22, no. 8
Turtle, Sprig, Samantha, and Puck, eds., Earth First! Journal 22, no. 8 (22 September 2002). Republished by the Environment & Society Portal, Multimedia Library. http://www.environmentandsociety.org/node/7071.
---
INNARDS
SOUTH AFRICA: MARCHING INTO NEW MOVEMENT

DISSENT FLARES UP AGAINST BUSH
GEAR UP FOR LAWLESS LOGGING!
PROPHETIC FIRE ON THE BLACK HILLS
THE BLACK HILLS ARE STILL SACRED
ENVIROS ACCUSED OF BUREAUCRATIC ARSON
GREEN POLYESTER'S EFFECT ON WILDLIFE
JOINT TERRORISM TASK FORCE TARGETS ACTIVISTS
SHOOTING THE MESSENGER: NAALFPO RAIDED
WREF! FACES LEGAL FALLOUT
RESISTING THE MAXXAM BLITZKRIEG
CAR DEALER PLAYS COWBOY IN PHOENIX
PUTTING GRAZING OUT TO PASTURE
CLEAR CUTS THREATEN THE HEART OF TEMAGAMI
CONJURING MUTINY: REMEMBERING HIROSHIMA
SONAR CAUSES MASS WHALE BEACHINGS
NIGERIAN WOMEN TAKE ON OIL COMPANIES
BAMBOOZLED AT THE BORDER
THE INTERAMERICAN BANK PAVES LATIN AMERICA
BLANK WALL: ECUADOR BRACES FOR FTAA
CEOs ON THE RUN 
WILDFIRE FIGHTS THE CLASS WAR
THE LOW DOWN ON SHOW LOW
EUGENE PEPPER SPRAY LAWSUIT SETTLED
THE LASTING IMPACTS OF CHEMICAL WEAPONS
SHOOTING THE WOUNDED
UNTIL THE LAST PRISON BURNS
JAILED FOR JUSTICE: A WOMAN'S GUIDE
IMPRISONMENT IS THE ANTIPATHY TO LIFE
EF! JOURNAL READER SURVEY
There's something about fire, rebellion and transformation. Ancient stories say that fire was stolen and redistributed since the beginning of time. […] Fire is the temper of revolution. It is the riot when words and promises become meaningless. Fire is passion. It is a fever in the body. Fire is destructive, but it is also transformational. […] Now is the time to start the healing fires that will begin to correct the imbalances and injustices in the world. […] Everybody, grab your matches!

— Puck
---
All rights reserved. The user may download, preserve and print this material only for private, research or nonprofit educational purposes. The user may not alter, transform, or build upon this material.
The Rachel Carson Center's Environment & Society Portal makes archival materials openly accessible for purposes of research and education. Views expressed in these materials do not necessarily reflect the views or positions of the Rachel Carson Center or its partners.
Further readings:
Bari, Judi. Revolutionary Ecology: Biocentrism & Deep Ecology. Melville: Trees Foundation, 1998.
Lee, Martha. Earth First!: Environmental Apocalypse. Syracuse: Syracuse University Press, 1995.
Merchant, Carolyn. Radical Ecology: The Search for a Livable World. London: Routledge, 1992.
Mies, Maria, and Vandana Shiva. Ecofeminism. London: Zed Books, 1993.
Taylor, Bron "Diggers, Wolves, Ents, Elves and Expanding Universes: Global Bricolage and the Question of Violence within the Subcultures of Radical Environmentalism." In The Cultic Milieu: Oppositional Subcultures in an Age of Globalization, edited by Jeffrey Kaplan, and Heléne Lööw, 26-74. Walnut Creek: AltaMira Press, 2002.
Taylor, Bron. "Earth First!" In Encyclopedia of Religion, edited by Lindsay Jones, 2561-6. New York: MacMillan Reference, 2005.