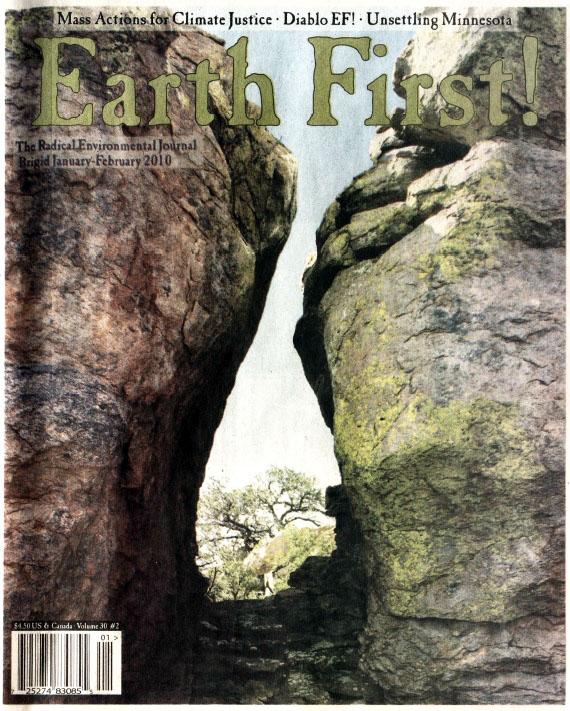 Created by Hungry Knife Artist Collective. www.hungryknife.com
The copyright holder reserves, or holds for their own use, all the rights provided by copyright law, such as distribution, performance, and creation of derivative works.
grizzemily, nettle, and Sasha, eds., Earth First! 30, no. 2 (1 January 2010). Republished by the Environment & Society Portal, Multimedia Library. http://www.environmentandsociety.org/node/7258.
---
FEATURES
GLOBE FOREST DIRECT ACTION CAMP REPORT BACK
N30: INTERNATIONAL ROUND-UP OF ACTIONS
MAINE EARTH FIRST! DISRUPTS STATE'S APPROVAL OF PLUM CREEK'S DEVELOPMENT PLAN
INDUSTRIAL WIND POWER THREATENS MAINE'S MOUNTAINS
THE 2009 EF! JOURNAL READER SURVEY RESULTS
CLIMATE ALARM IN BRUSSELS
ACTIVISTS SHUT DOWN EUROPEAN BUSINESS CONFERENCE
WEATHER OR NOT…
SEATTLE +10
UNSETTLING MINNESOTA
AN INTRODUCTION
UNSETTLING MINNESOTA POINTS OF UNITY
BALLAD OF MACHO B
HOPENHAGEN, WHAT THE FUCK?!
HOW CLIMATE TALKS TURNED INTO MOCKERY
THE AMERICAN GENOCIDE OF THE GREY WOLF
HOW DELISTING SPECIES ENDANGERS THEIR ABILITY TO PROSPER
WHAT KILLS YOU STOPS FOR ONE MOMENT
MOUNTAINTOP REMOVAL, CIVIL RESISTANCE AND THE CLIMATE GROUND ZERO CAMPAIGN
DAMN CARS AND THE CARNAGE OF DAMS
INTRODUCING DIABLO EARTH FIRST!
WHAT IF?
A CRITICAL ASSESSMENT OF THE 350.ORG INTERNATIONAL DAY OF ACTION
SHOUT OUT TO EF!ERS ACROSS THE GLOBE
JOURNAL RELEASE PARTIES
THE NUCLEAR RENAISSANCE 
& THE NECESSARY RESISTANCE
BRAN SCAM IN PINON PICKING
CARRIE & SCOTT TAKEN HOSTAGE BY STATE!
TRAGEDY IN THE SWEAT LODGE
GLAD I'M NOT A TREE
OR A COYOTE OR A HERON
December's Copenhagen climate conference failed before it even started. 

—The Insane Climate Posse
---
All rights reserved. The user may download, preserve and print this material only for private, research or nonprofit educational purposes. The user may not alter, transform, or build upon this material.
The Rachel Carson Center's Environment & Society Portal makes archival materials openly accessible for purposes of research and education. Views expressed in these materials do not necessarily reflect the views or positions of the Rachel Carson Center or its partners.
Further readings:
Bari, Judi. Revolutionary Ecology: Biocentrism & Deep Ecology. Melville: Trees Foundation, 1998.
Foreman, Dave. Ecodefence: A Field Guide to Monkeywrenching. Tucson: A Ned Ludd Book, 1987.
Lee, Martha. Earth First!: Environmental Apocalypse. Syracuse: Syracuse University Press, 1995.
Merchant, Carolyn. Radical Ecology: The Search for a Livable World. London: Routledge, 1992.
Mies, Maria, and Vandana Shiva. Ecofeminism. London: Zed Books, 1993.
Taylor, Bron. "The Tributaries of Radical Environmentalism." Journal for the Study of Radicalism 2, no. 1 (2008): 27-61.