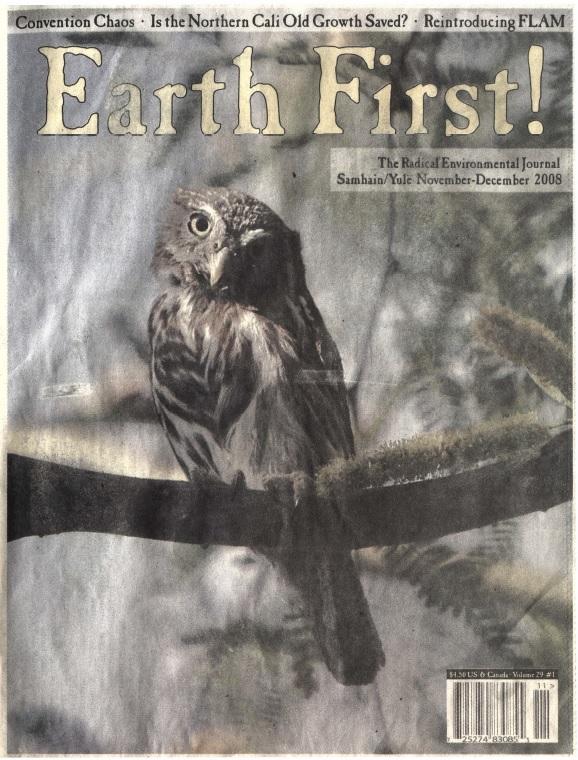 "Cactus ferruginous pygmy owl." Created by Sky Jacobs, www.skyjacobs.com
The copyright holder reserves, or holds for their own use, all the rights provided by copyright law, such as distribution, performance, and creation of derivative works.
Donny, James Jameson, Leah, and Sophia, eds., Earth First! 29, no. 1 (1 November 2008). Republished by the Environment & Society Portal, Multimedia Library. http://www.environmentandsociety.org/node/7252.
---
FEATURES
VICTORY FOR THE REDWOODS
STEPPING OFF AFTER THE RNC PROTESTS
LONG HAUL INFOSHOP REGROUPS AFTER POLICE RAID
THE CLIMATE AND ANTI-RACIST CAMP IN GERMANY
AN ENVIRONMENT OF REPRESSION
HOW THE UK CLIMATE CAMPE WEATHERED THE STORM
ONE HOT SOUTHEAST CLIMATE CONVERGENCE
SEVEN GERMAN BANKS ATTACKED IN SOLIDARITY WITH UK CLIMATE CAMP
THE NORTHEAST CLIMATE CONFLUENCE
MIXING RIVERS OF RESISTANCE
FLAM: THE ALF OF MEXICO
GLOBAL DAY OF ACTION AGAINST STATE TERROR IN AOTEAROA/NEW ZEELAND
BLUE RIDGE EARTH FIRST! ROUNDUP
EARTH FIRST! ROAD SHOW
HITTING THE ROAD IN SPRING AND SUMME, 2009
A LONG STRANGE TREESIT
THE DAYS OF THE BERKELEY TREESIT COME TO A CLOSE
TREESITTING WORKS
A HUMBOLDT ACTIVIST REFLECTS
A HEARTFELT TRIBUTE TO SALI
WE MISS YOU
DECENDING ON THE DNC
AN EF! RETROSPECTIVE OF THE 2008 PROTESTS
FELONY CHARGES FOR RNC ARRESTEES
A LETTER FROM THE RNC 8
CONTINUING REPRESSION AGAINST ANIMAL ACTIVISTS IN AUSTRIA
AN INDIGENOUS PERSPECTIVE ON THE ECONOMIC COLLAPSE
FROM MOHAWK NATION NEWS
SAVING ICELAND ON ITS FOURTH DIRECT ACTION CAMP AND THE ALUMINUM CONFERENCE
TOWARD STRONGER COMMUNITIES AND DIRECT ACTION
MARIE MASON'S PLEA AGREEMENT DETAILS
LIGHTS, CAMERA, DIRECT ACTION!
BATTLE IN SEATTLE REVIEW: AN ANARCHISTS PERSPECTIVE
Who would have thought that artificial economies and their worthless paper currencies, based on the theft of indigenous resources, would come tumbling down? Greed and oppression can't go on forever.

—Karakwine and MNN Staff
---
All rights reserved. The user may download, preserve and print this material only for private, research or nonprofit educational purposes. The user may not alter, transform, or build upon this material.
The Rachel Carson Center's Environment & Society Portal makes archival materials openly accessible for purposes of research and education. Views expressed in these materials do not necessarily reflect the views or positions of the Rachel Carson Center or its partners.
Further readings:
Bari, Judi. Revolutionary Ecology: Biocentrism & Deep Ecology. Melville: Trees Foundation, 1998.
Foreman, Dave. Ecodefence: A Field Guide to Monkeywrenching. Tucson: A Ned Ludd Book, 1987.
Lee, Martha. Earth First!: Environmental Apocalypse. Syracuse: Syracuse University Press, 1995.
Merchant, Carolyn. Radical Ecology: The Search for a Livable World. London: Routledge, 1992.
Mies, Maria, and Vandana Shiva. Ecofeminism. London: Zed Books, 1993.
Taylor, Bron. "The Tributaries of Radical Environmentalism." Journal for the Study of Radicalism 2, no. 1 (2008): 27-61.