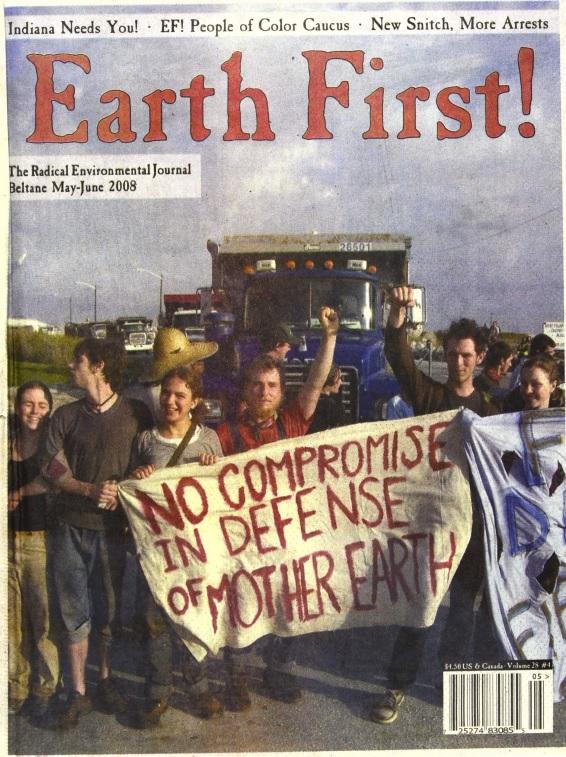 Aren, Donny, Joanna, Josh, and Sophia, eds., Earth First! 28, no. 4 (1 May 2008). Republished by the Environment & Society Portal, Multimedia Library. http://www.environmentandsociety.org/node/7250.
---
FEATURES
IN DEFENSE OF THE EVERGLADES
REPORT FROM THE ORGANIZERS' CONFERENCE ACTION
HAPPY FOSSIL FOOLS' DAY!
ROUNDUPS FROM ACROSS THE GLOBE
THE GREEN SCARE, ROUND TWO
FOUR ARRESTED FOR MIDWEST ELF ACTIONS
THE SHAM TRIAL OF BRIANA WATERS
HOUSE RAID IN SANTA CRUZ 
AND COMMUNITY STANDOFF WITH THE COPS
BUFFALO FIELD CAMPAIGN INSIDE THE BISON TRAP
THE LONGEST WALK 2008
lNDIGENOUS PEOPLE WALK FROM SAN FRANCISCO TO DC
THE GAMES HAVE ALREADY BEGUN
UPDATE ON RESISTANCE TO THE 2010 OLYMPICS
WE SEE COLOR AND IT FUCKING MATTERS
A REPORTBACK FROM THE ORGANIZERS' CONFERENCE PEOPLE OF COLOR CAUCUS
SWAMP-SAVVY ORGANIZERS' CONFERENCE REPORTBACK
COME TO INDIANA, FIGHT 1-69 NOW!
HOCKHOCKING EF! INVITES YOU TO OHIO
THE SUMMER 2008 EF! ROUND RIVER RENDEZVOUS
THAT GIANT SUCKING SOUND… COULD IT BE YOU?
HOW OPPRESSION EATS OUR MOVEMENT
A FEW TOO MANY
ON GETTING SNIPPED
MEETING THE EYES OF THE ENEMY
JEFFREY "FREE" LUERS RESENTENCED
YOU HAVE THE RIGHT TO REMAIN CONTROLLED
REVIEW OF POLICING DISSENT: SOCIAL CONTROL AND THE ANTI-GLOBALIZATION MOVEMENT
FROM THE FOREST TO THE FEEDLOT
REVIEW OF WESTERN TURF WARS: THE POLITICS OF PUBLIC LANDS RANCHING
Any serious discussion of race within our movement must begin with the candid recognition that Earth First! is a predominantly white movement. Following this recognition, a spring of interesting questions will naturally begin to arise from the curious, anti-racist, environmental activist. 'Why are people of color so few in EF!?'

— The People of Color Caucus
---
All rights reserved. The user may download, preserve and print this material only for private, research or nonprofit educational purposes. The user may not alter, transform, or build upon this material.
The Rachel Carson Center's Environment & Society Portal makes archival materials openly accessible for purposes of research and education. Views expressed in these materials do not necessarily reflect the views or positions of the Rachel Carson Center or its partners.
Further readings:
Bari, Judi. Revolutionary Ecology: Biocentrism & Deep Ecology. Melville: Trees Foundation, 1998.
Foreman, Dave. Ecodefence: A Field Guide to Monkeywrenching. Tucson: A Ned Ludd Book, 1987.
Lee, Martha. Earth First!: Environmental Apocalypse. Syracuse: Syracuse University Press, 1995.
Merchant, Carolyn. Radical Ecology: The Search for a Livable World. London: Routledge, 1992.
Mies, Maria, and Vandana Shiva. Ecofeminism. London: Zed Books, 1993.
Taylor, Bron. "The Tributaries of Radical Environmentalism." Journal for the Study of Radicalism 2, no. 1 (2008): 27-61.