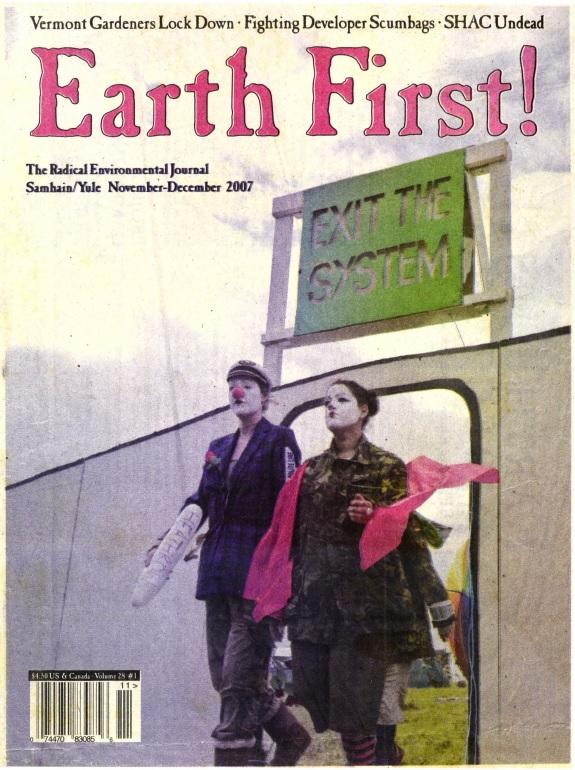 "Exiting the System at the UK Climate Camp." Created by Jerome Dutton, www.fleahouse.co.uk
The copyright holder reserves, or holds for their own use, all the rights provided by copyright law, such as distribution, performance, and creation of derivative works.
Dimebag Donny, Just Lenny, Dr. fophia Ae the I, ZHONN eM DreamBoat!, eds., Earth First! 28, no. 1 (1 November 2007). Republished by the Environment & Society Portal, Multimedia Library. http://www.environmentandsociety.org/node/7247.
---
FEATURES
VERMONT GARDENERS RECLAIM PROPOSED TRUCK STOP SITE
BLUE RIDGE EF! TAKES ON WAL-MART
THE ERIC MCDAVID STORY
DECEPTION, LIES AND SPIES FROM THE FBI
RON CORONADO ON TRIAL
FREE SPEECH TRIAL ENDS IN A HUNG JURY
THE 1-69 CONSULTA AND BEYOND
SAVING THE FOREST FOR THE TREES
TREESITS AND POLITICS IN INDIANA'S STATE FORESTS
FOREST DEFENSE BY THE FRIENDS OF MORGAN-MONROE STATE FOREST
THE GLOBAL DAY OF ACTION AGAINST HEAVY INDUSTRY
MAINE VS. THE MULTI-TENTACLED PLUM CREEK ALIEN
SIX NATIONS DEFENDERS CHARGED WITH "MIS'CHIEF"
THERE ARE NO SAFE SPACES ON A DEAD PLANET
OR, "HEY CRUST-PUNK, WHICH SPECIES IS THAT TREE YOU'RE PISSING ON?"
REMEMBERING WILLIAM RODGERS
HUMBOLDT FOREST DEFENSE
DAYDREAMING OF A WORLD WITHOUT COPS
CONFLICT MEDIATION IN OUR RADICAL COMMUNITIES
UCERPING THE EVERGLADES
EVERGLADES EF! ON RESTORATION
AN INTERVIEW WlTH DANIEL MCGOWAN
TWO RESPONSES TO PETER YOUNG
LETTERS ON LIFE IN PRISON AND WHAT INSPIRES US TO ACTION
ECOREPRESSION IN THE MIDWEST
CHARGES AGAINST SNITCH JAKE FERGUSON UNSEALED
SHAC: UNDEAD!
SONGCRAFT OF LIBERATION
MUSIC FROM LARS DIN SONGRIOT
THE WORLD OF CHILDREN AND ELVES
WELCOME TO TERIJIAN
CLIMATE ACTION:
UK: EDUCATING AND AGITATING AT HEATHROW AIRPORT
NORTHWEST US: FIGHTING DAMS AND LIQUID NATURAL GAS
SOUTHEAST US: SHUTTING DOWN DIRTY COAL AND ITS
DIRTY MONEY
Many of the people coming into EF! nowadays do so with their feet planted firmly in urban street battles for social justice, while living fully in squat, train, and bicycle culture—but with relatively little foreknowledge of ecological issues, biocentrism and ecocentrism […]. 

— The Radikal Weatherman
---
All rights reserved. The user may download, preserve and print this material only for private, research or nonprofit educational purposes. The user may not alter, transform, or build upon this material.
The Rachel Carson Center's Environment & Society Portal makes archival materials openly accessible for purposes of research and education. Views expressed in these materials do not necessarily reflect the views or positions of the Rachel Carson Center or its partners.
Further readings:
Bari, Judi. Revolutionary Ecology: Biocentrism & Deep Ecology. Melville: Trees Foundation, 1998.
Foreman, Dave. Ecodefence: A Field Guide to Monkeywrenching. Tucson: A Ned Ludd Book, 1987.
Lee, Martha. Earth First!: Environmental Apocalypse. Syracuse: Syracuse University Press, 1995.
Merchant, Carolyn. Radical Ecology: The Search for a Livable World. London: Routledge, 1992.
Mies, Maria, and Vandana Shiva. Ecofeminism. London: Zed Books, 1993.
Taylor, Bron. "The Tributaries of Radical Environmentalism." Journal for the Study of Radicalism 2, no. 1 (2008): 27-61.