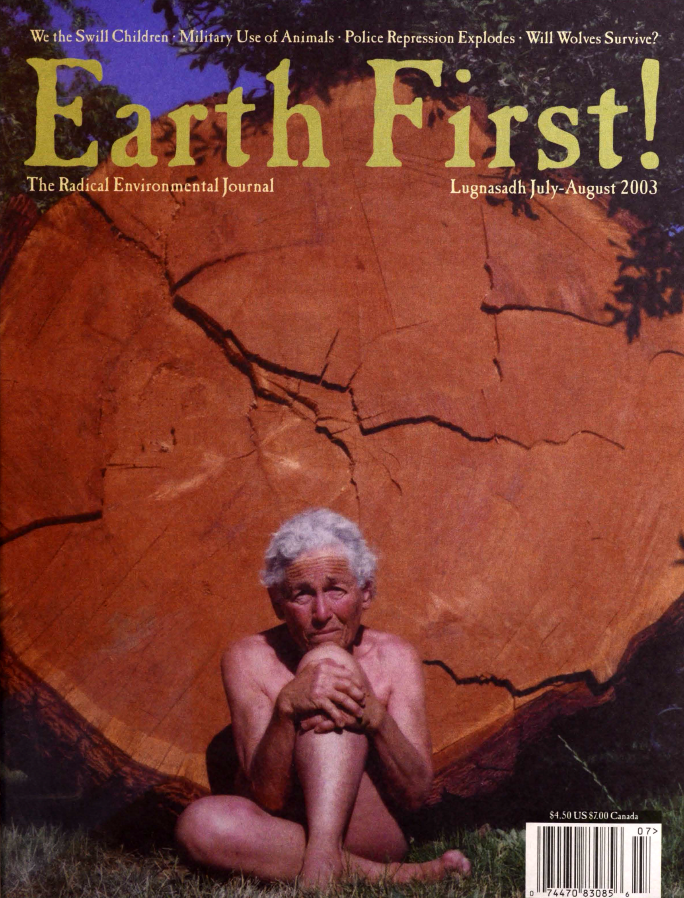 Cover by Amelia Budd.
The activist Dot Fisher-Smith in front of "Beginnings", a 440-year-old Douglas fir tree that was cut down in Oregon in spring 2003. Forest defenders used it for touring the communities of Cascadia and rising awareness for how the US government and logging companies are managing the last wild areas on public lands.
The copyright holder reserves, or holds for their own use, all the rights provided by copyright law, such as distribution, performance, and creation of derivative works.
Yael, Puck, Sprig, Samantha, and Turtle, eds., Earth First! 23, no. 5 (1 July 2003). Republished by the Environment & Society Portal, Multimedia Library. http://www.environmentandsociety.org/node/7194.
---
INNARDS
THE STRENGTH IN VULNERABILITY 
VICTORY IN THE HEADWATERS FOREST
ERICH SCHATZ & PACIFIC LUMBER VS. EF! CONTINUED
COLLATERAL DAMAGE: ENDANGERED SPECIES FACE FALL-OUT
BUSH UNDERMINES CRITICAL HABITAT
WILL THE WOLF SURVIVE?
MEXICAN GRAY WOLVES ENDURE STRUGGLE 
FOOD FIGHT: THE WORLD AGRICULTURAL FORUM
POLICE CRACKDOWN IN ST. LOUIS
A DECLARATION FOR BIOSAFETY AND FOOD SECURITY 
LESSONS FROM BIODEVASTATION 7
NEWMONT GOLD: CREATING DESTRUCTION WITH EVERY OUNCE
CHALLENGING CORPORATE CONVENTIONS WORLDWIDE 
THE PLIGHT OF ANIMALS IN THE MILITARY
ENTERING VANDENBERG AIR FORCE BASE
VIEQUES ACTIVISTS OUST US MILITARY
ALBANY RESIDENTS DERAIL ASPHALT PLANT
COAL-FIRED PLANT PROPOSED IN FOUR CORNERS
THE ANGEL OF DEATH 
WHAT WE LEARNED IN MOLOKAI
THE EVILS OF THE CRUISE SHIP INDUSTRY
BLANK WALL: RADICAL LEGAL DEFENSE
REMEMBERING HENRY STUART HUTTO
WE THE SWILL CHILDREN
NATIVE YOUTH RESISTANCE
NATIVE YOUTH MOVEMENT HOMES RAIDED
SHAC OFFICE RAIDED
THE FBI HAS NOTHING ON ME 
GRAND JURY LOOKS TO FRESNO STATE
AN OPEN LETTER TO THE FBI
FBI STEPS UP REPRESSION OF INDIANA ACTIVISTS
THE EMPIRE'S SHADOW 
ANNA MAE HAUNTS THE FBI
PACIFISM AND PATHOLOGY IN THE AMERICAN LEFT
VIDEO REVOLUTION: UNLEASHING ACTIVIST VIDEO
A TRILOGY OF NEW VIDEO REVIEWS
BUFFALO STAMPEDE STOMPS ON DC
THE END OF WILDERNESS
My friends' deaths have led me to contemplate my own mortality, and how it's a miracle that any of us are still alive in this human-mutated world of asphalt and lies. As much as I grieve my loss, I realize that it is nothing compared to the extinction of entire species, which is what the planet is facing today. It's nothing compared to entire native cultures being displaced in the name of "progress."

— Yael
---
All rights reserved. The user may download, preserve and print this material only for private, research or nonprofit educational purposes. The user may not alter, transform, or build upon this material.
The Rachel Carson Center's Environment & Society Portal makes archival materials openly accessible for purposes of research and education. Views expressed in these materials do not necessarily reflect the views or positions of the Rachel Carson Center or its partners.
Further readings:
Bari, Judi. Revolutionary Ecology: Biocentrism & Deep Ecology. Melville: Trees Foundation, 1998.
Lee, Martha. Earth First!: Environmental Apocalypse. Syracuse: Syracuse University Press, 1995.
Merchant, Carolyn. Radical Ecology: The Search for a Livable World. London: Routledge, 1992.
Mies, Maria, and Vandana Shiva. Ecofeminism. London: Zed Books, 1993.
Taylor, Bron "Diggers, Wolves, Ents, Elves and Expanding Universes: Global Bricolage and the Question of Violence within the Subcultures of Radical Environmentalism." In The Cultic Milieu: Oppositional Subcultures in an Age of Globalization, edited by Jeffrey Kaplan, and Heléne Lööw, 26-74. Walnut Creek: AltaMira Press, 2002.
Taylor, Bron. "Earth First!" In Encyclopedia of Religion, edited by Lindsay Jones, 2561-6. New York: MacMillan Reference, 2005.