Goodbody, Axel, ed. | from Multimedia Library Collection: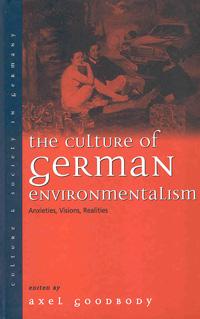 The Culture of German Environmentalism. Cover.
Goodbody, Axel, ed. The Culture of German Environmentalism: Anxieties, Visions, Realities. New York: Berghahn Books, 2002.   
Though much has been written about the Green Party in Germany, less is known about the changes in individuals' attitudes towards the environment that led to the rise of environmental movement, or of its cultural roots. This volume draws attention to the breadth of environmentalism in contemporary Germany and its significance for German political culture by focusing on the treatment of "green" issues in literature, the media and film, against the background of Green politics and the environmental movement. The volume includes an interview with Carl Amery, the Bavarian Green and science fiction writer, a short text by him and an account of his activities as writer and campaigner. (Text from Berghahn Books)
Part of the Culture & Society in Germany series.