Boyd, Robert | from Multimedia Library Collection: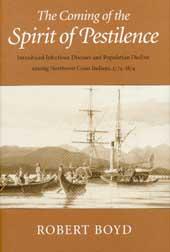 All rights reserved. Copyright © 1999 by University of Washington Press. Cover image: Trading on the North Coast, 1836, watercolor of the brigantine Beaver by Gordon Miller © 1995. (Canadian Museum of Civilization).
The copyright holder reserves, or holds for their own use, all the rights provided by copyright law, such as distribution, performance, and creation of derivative works.
Boyd, Robert. The Coming of the Spirit of Pestilence: Introduced Infectious Diseases and Population Decline among Northwest Coast Indians 1774–1874. Seattle: University of Washington Press, 1999.
In the late 1700s, when Euro-Americans began to visit the Northwest coast, they reported the presence of vigorous, diverse cultures-among them the Tlingit, Haida, Kwakwaka'wakw (Kwakiutl), Nuu-chah-nulth (Nootka), Coast Salish, and Chinookans—with a population conservatively estimated at over 180,000. A century later only about 35,000 were left. The change was brought about by the introduction of diseases that had originated in the Eastern Hemisphere, such as smallpox, malaria, measles, and influenza. The Coming of the Spirit of Pestilence examines the introduction of infectious diseases among the Indians of the Northwest Coast culture area (present-day Oregon and Washington west of the Cascade Mountains, British Columbia west of the Coast Range, and southeast Alaska) in the first century of contact and the effects of these new diseases on Native American population size, structure, interactions, and viability. The emphasis is on epidemic diseases and specific epidemic episodes. — University of Washington Press website. http://www.washington.edu/uwpress/search/books/BOYCOM.html.
Robert Boyd is a consulting anthropologist living in Portland, Oregon.